Excellence Has Been Our Hallmark
Global Plumbing is owned and operated by a husband and wife team, Richard (Richie) Shifflett Jr. and Faith Shifflett. We made our dream a reality in 2018 shortly after our marriage. Since then, Global Plumbing has been serving Northern Virginia and its surrounding areas. Richie has thirty years experience in plumbing and home remodeling while Faith has twenty-two years as an educator. Together we bring a unique touch to the art of service and workmanship in the plumbing industry.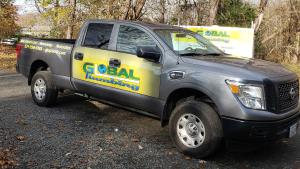 Global Plumbing, LLC is a customer focused plumbing company. Located in Broad Run, VA, we employ highly trained people whose goal is to make our company the best service company in Northern Virginia and the North Central counties.
Our company specializes in designing, engineering, and installing complete comfort systems for owners of existing homes and buildings just like yours. We take special pride in the craftsmen we train and employ--a fact you'll notice immediately in the attitude and integrity they bring to your job site. Our entire company works hard to make your experience with us hassle-free and enjoyable. Should we make a mistake, we will do everything in our power to correct it to your satisfaction.
From the professionalism of our sales engineers, to the dedication of our field personnel, we are dedicated to delivering you the best. We take our responsibility very seriously when you place your trust in us. We pledge to always tell you up front what your cost will be to complete your job correctly. We make it a point to go over any details or limitations of the proposed system that will affect your enjoyment of the end result. You are told exactly what to expect up front.
Compare our guarantee with the limitations, fine print and exclusions other companies tend to use to back their work today. Others will typically guarantee only the functionality of the equipment--not your satisfaction with the process or that the finished job lives up to your expectations. This is why Global Plumbing, LLC continues growing with more satisfied customers each and every year. Give us a call for your service needs and see what you've been missing.
The employees & management of Global Plumbing, LLC